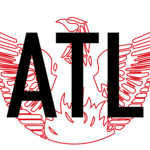 Hannah has been convincing people to raise money and run in their drawers for Neurofibromatosis since 2012. Hannah is in her last year with the Cupid's Undie Run so we brought her on to talk about the event and the great cause it serves. She also discusses embracing her basic bitch and her favorite freeway in Atlanta.
Listen in as there is much more, including new questions to The Atlanta Lightning Round.
Use code ATLMatt for 10% off of Cupid's Undie Run.
Interview Recorded: December 21, 2017. Alkaloid Conference Room.
Show Notes That Nobody Reads